Overview
The Business
Stepan is a major global manufacturer of specialty and intermediate chemicals used in a broad range of industries.

Although Stepan is classified with other specialty chemical companies, it is unique in the industry and does not have a competitor or competitors to precisely match its businesses because its products have a specific focus. 
Read More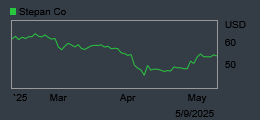 Copyright West LLC. Minimum 15 minutes delayed.
Investor Contacts
Luis E. Rojo
Vice President & Chief Financial Officer
Phone: 847-446-7500
lrojo@stepan.com
Contact the Registrar and Transfer Agent concerning stock certificates, dividend checks, transfer of ownership, or other matters pertaining to your stock account.
Transfer Agent
Computershare Investor Services LLC
2 North LaSalle Street
Chicago, IL 60602
Phone:
312-588-4991
Fax:
312-765-8052